Moi, les gaufres, je les ai toujours connues sucrées avec de la chantilly dessus. D'ailleurs, si mes souvenirs sont bons, je n'en mangeais qu'une fois l'an lorsque la fête foraine venait frôler le sol de ma petite ville Béarnaise d'origine. Ce qui me renvoie facilement 25 ans en arrière (ce coup de vieux que je viens de me prendre tout d'un coup!).
Ce n'est que depuis que j'ai acheté un appareil à faux croques-monsieur multitâches
 que j'ai tenté çà et là de faire des gaufres à la maison. De temps en temps, le dimanche matin, c'est toujours super apprécié. Et puis un jour, sur Pinterest, je suis tombée sur un visuel de gaufres salées et BIM le "pourquoi pas" a germé en moi.
Vous savez quoi ? Eh bien c'est super facile, ultra versatile et méga savoureux !
La recette :
Ma recette est issue du génialissime livre : Desserts de grands-mères pour faire craquer le grand méchant loup
 mais franchement n'importe quelle recette de gaufres fera l'affaire au final.

I am not a mega fan of waffles. To be honest, I rather prefer crêpes and pancakes. But one day we bought a Sandwich Maker Machine
 and it had the possibility to make waffles too. And that's how we ended cooking waffles time to time on Sundays morning. And every time it's very appreciated by the whole house.
One day, I saw a picture of salted waffles on Pinterest  and I knew that I had to give it a try !
And you know what ? It's super easy, so versatile and mega tasty !
The recipe :
I found it in one of my favorite French cooking books Desserts de grands-mères pour faire craquer le grand méchant loup
 which I'll be sharing here in this post but frankly, you can use your own favorite waffles recipe.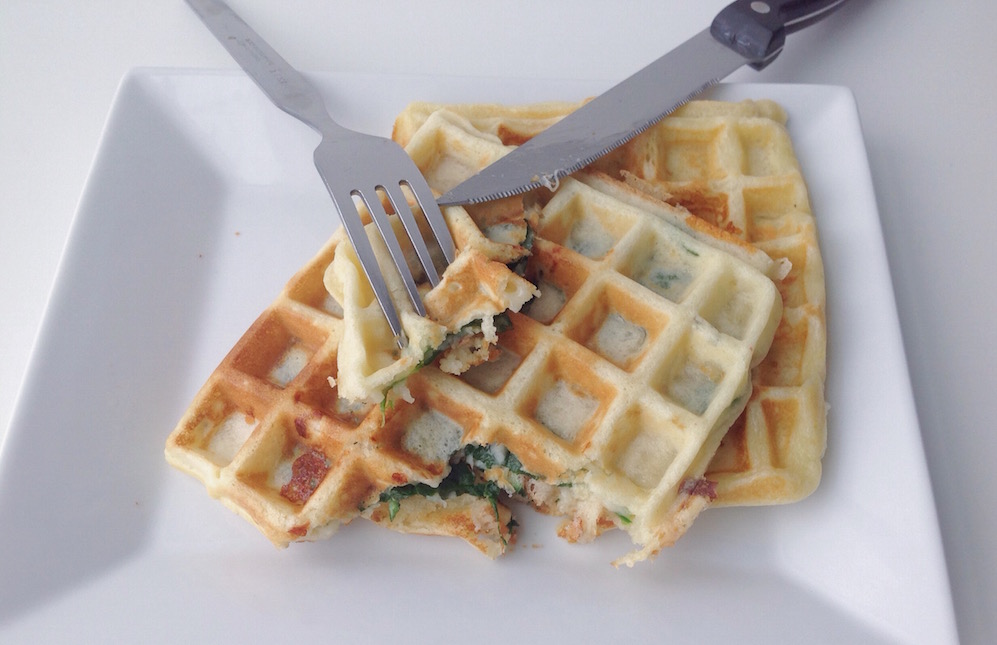 Les ingrédients
75 gr de beurre fondu
250 gr de farine (complète)
3 oeufs
40 cl de lait
1/2 sachet de levure chimique
huile pour le moule
Pour la garniture:
100 gr de bleu (le bleu de bresse est parfait)
50 gr de pousses d'épinards
une bonne poignée de noix hachées
sel & poivre selon les goûts
Notes :
→ C'est une recettes pour 4 gourmands.
→ Il est préconisé de faire reposer la pâte au frigo pendant au moins une heure.
→ La recette indique de battre les blancs en neige pour plus de légèreté. Ce n'est pas non plus une obligation.
En route !
On mélange la levure, le sel et la farine ensemble et l'on dispose le tout dans une terrine. On y ajoute les jaunes d'oeufs. On verse le beurre et le lait. On mélange bien.
On monte les blancs en neige avec une pincée de sel puis on les incorpore à la pâte.
On laisse reposer une heure environ au frigo.
On ajoute la garniture des gaufres (ça peut très bien être du jambon et fromage, saumon et boursin, etc.) et on mélange bien.
On huile le moule à gaufres, on le fait chauffer et on y verse enfin une petite louche de pâte. Lorsque c'est bien doré des deux côtés, on démoule les gaufres et l'on continue ainsi jusqu'à ce qu'il n'y ait plus de pâte.
Et voilà ! Bon appétit les amis !

The ingredients
2,5 oz (or 1/3 cup) of melted butter
2 cups of flour
3 eggs
13 fl. oz. of milk
1 tsp of baking powder
oil for the waffles mold
For the filling:
1 cup of blue crumbled cheese
1 cup of baby spinach
1/2 cup of chopped walnuts
salt & pepper
Notes :
→ This recipe is for 4 people.
→ It's asked to let the dough rest for about an hour in the fridge.
→ the white eggs are supposed to be beaten. This way the dough is more slight (?) but it's not an obligation.
Let's do this !
Mix together the baking powder, the salt and the flour in a bowl. Add the egg yolks, the butter and the milk. Stir carefully.
Beat the white eggs with a pinch of salt, then add it to the previous dough.
Let rest about an hour in the fridge.
Add the filling and stir again.
Oil the mold, heat it and put a small ladle of dough over. When the waffles are gold cooked, remove it and repeat until there is no more dough.
And voilà ! Bon appétit dear friends !