La semaine dernière, en pérégrination sur le blog de Stéphanie Dans ma Cuizine, je suis tombée sur sa recette super simple pour faire de la ricotta maison. Depuis que nous vivons aux States, c'est un peu ma nouvelle lubie que de me lancer dans l'élaboration de fromages. Non pas par manque d'approvisionnement sur ce continent (bien au contraire, les adresses ne manquent pas pour trouver des fromages français importés très régulièrement) mais juste pour le fun d'en faire nous-mêmes. Et là, c'était l'occasion parfaite = neige + superbowl + week-end.
Sauf que dans mon empressement, j'ai fait n'importe comment et j'ai raté ma ricotta. J'en ai donc refait et au lieu de jeter la ratée, j'ai voulu faire un comparatif afin de voir s'il y avait vraiment des différences notables dans le goût, la texture, la consistance et la quantité obtenue lorsque l'on en modifiait la recette.

Last week, I ended up at Stephanie's blog Dans ma Cuizine (a really great French food blog) and her latest post was about some super easy homemade ricotta.
Since we have moved to the U.S., it's been like a new obsession to me to start making our own cheese. Not because there are not great cheeses here in Massachusetts (Thank you dear Vermont !) and also there are great shops in Boston to find all my favorites French cheeses (well, ok, they are super expensive) but what I mean is that if we want some we can find it here. So, long story short : I just wanna have fun ! And sunday, it was the perfect occasion to test this recipe = snowstorm + superbowl + weekend.
The only problem is that I was so excited that I failed the recipe in a really stupid way. So I had to start it all over again. And instead of dropping away the failed ricotta, I decided to make a comparison test to observe any differences between the perfect ricotta and the failed one.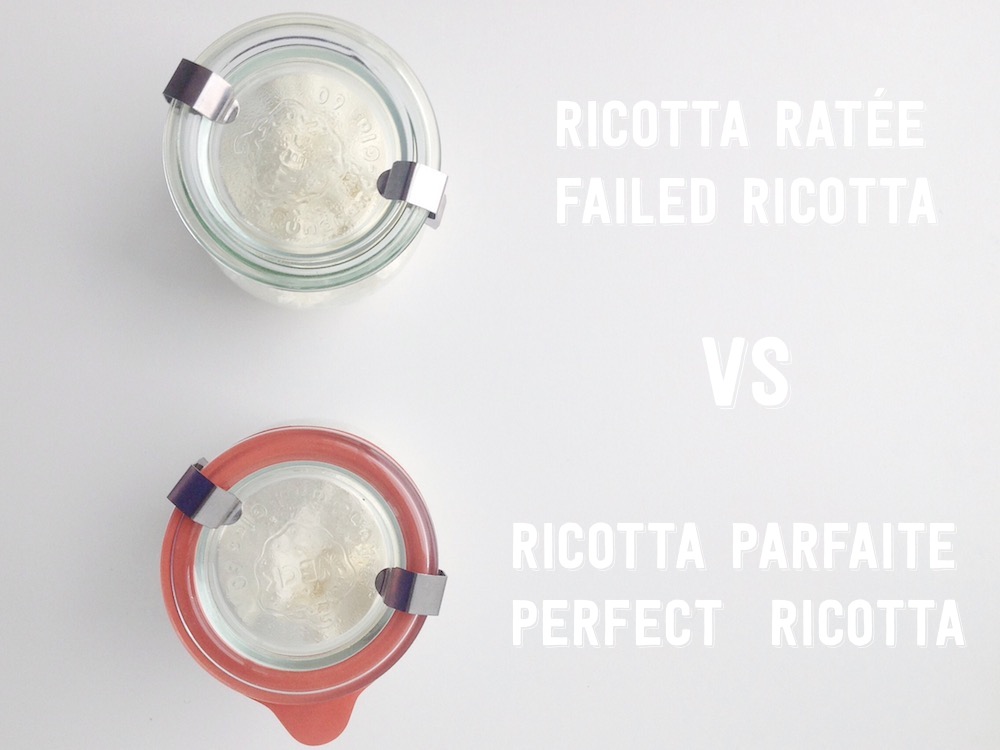 La recette en soi est hyper simple:
on fait chauffer 4 verres de lait entier avec un peu de sel dans une casserole.
on retire du feu lorsque ça commence à devenir bien chaud.
on verse le jus d'un citron et on laisse cailler pendant 15 minutes.
on égoutte à l'aide d'un tissu ou de la gaze pendant une demie-heure environ.
Rien de plus simple. Sauf que moi j'ai mis le citron dès le début avec le lait et le sel.
C'est maintenant que l'on va pouvoir comparer si au final ça impacte vraiment la réussite de la recette ou pas.

The recipe is super easy:
heat 4 cups of whole milk with kosher salt.
remove from the heat when it seems hot.
add a lemon juice and leave it alone for 15 minutes.
drain it with a cheesecloth for less than an hour.
Super simple. So how did I failed it ? Well, I heated all 3 ingredients together.
So now we are going to compare both of ricottas to check if there is some real differences and if this is a real problem or not.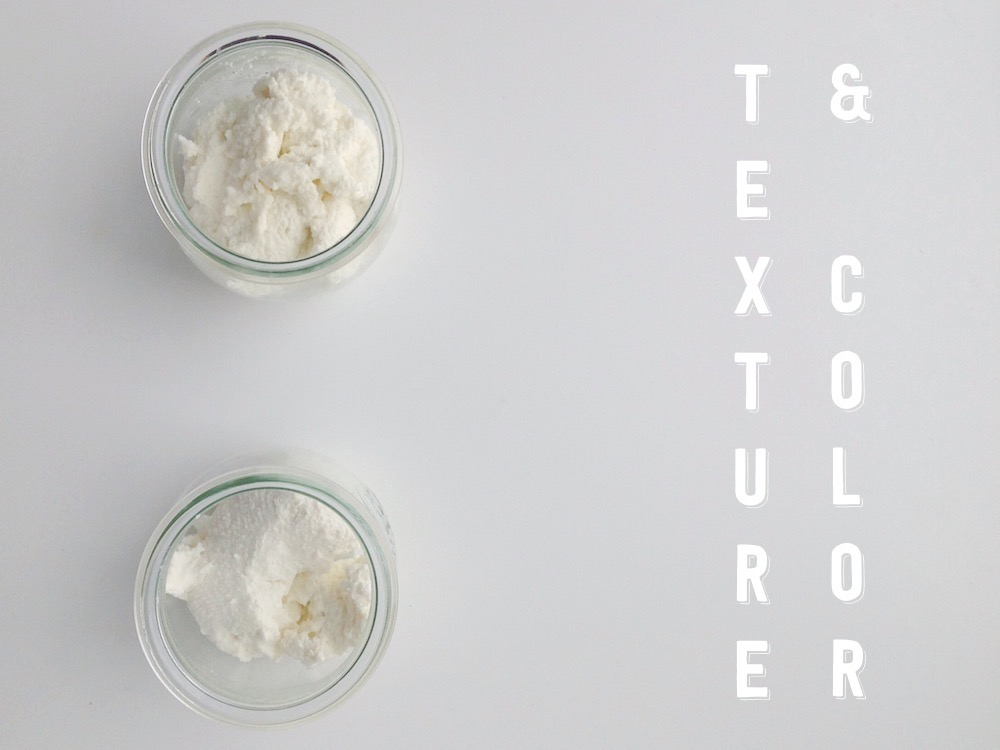 Couleur :
la version ratée est un poil plus jaune citron alors que l'autre est bien blanche.
Texture :
la texture est la même pour les deux.
Quantité :
185 gr de ricotta ratée.
168 gr de ricotta parfaite.

Color :
the failed one is a bit yellow-er than the perfect one who is super white.
Texture :
same texture for both.
Quantity :
185 grams of failed ricotta.
168 grams of perfect ricotta.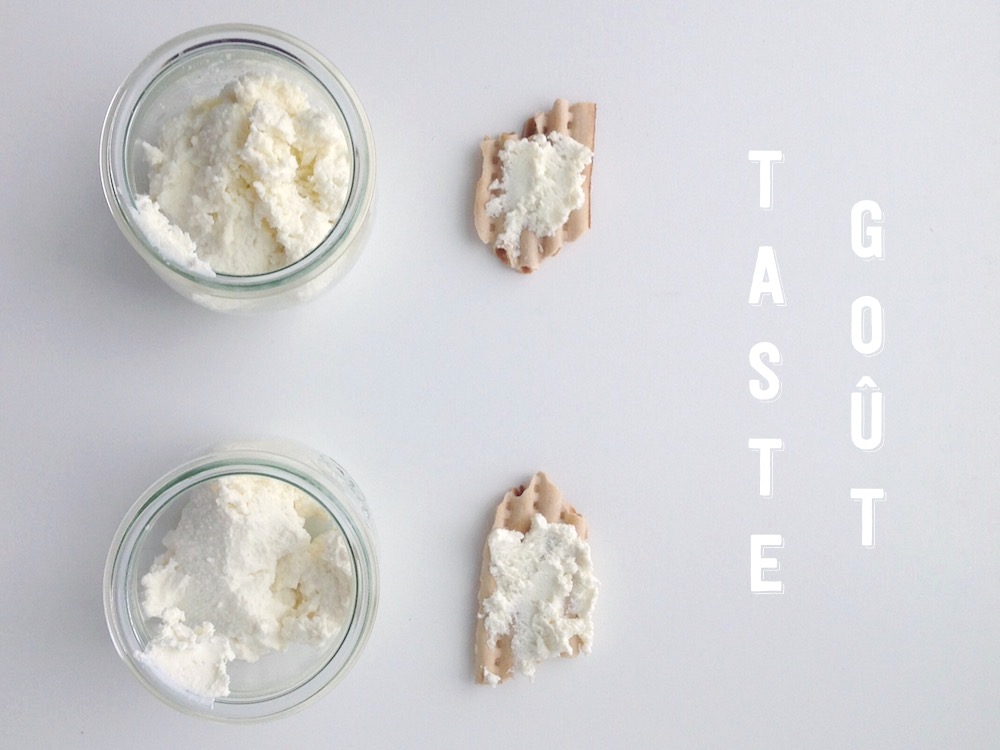 La ricotta ratée était beaucoup plus citronnée que l'autre.
CONCLUSION
Au final, les deux son vraiment très bonnes. Donc, je peux dire avec certitude qu'en réalité la ricotta est en soi, une recette inratable. (Ouf !)
NOTES SUPPLEMENTAIRES
il est recommandé d'utiliser du lait qui n'est pas UHT (ultra pasteurisé).
le petit lait peut-être utilisé pour la confection de pains maison.
il faut éviter de préparer plusieurs fromages en même temps car sinon les bactéries se mélangent entre elles et ça devient du vrai n'importe quoi. Donc un seul type de fromage à la fois !

Légende des deux photos d'intro:


-> à gauche: ricotta mélangée à de l'oeuf dur et de l'oignon rouge sur bagel.
-> à droite: bagel pizza à la ricotta et à la raclette.
Les jolis pots Weck* proviennent de chez Amazon* et sont parfaits pour conserver ce type de fromage.

The failed one tasted super good, just with a bit more of lemon.
CONCLUSION
You cannot fail your ricotta when the recipe includes only three ingredients. So no pressure and have fun !
ADDITIONAL NOTES
it's recommended to use only low pasteurized milk. Be careful.
the whey can be used for baking goods who needs water (like breads or pancakes).
It's better if you avoid making different cheese at the same time because bacterias like to hang out and mess up. So only a type of cheese at once !
 

Intro photo's captions:


-> left: ricotta + boiled egg + red onion on bagel.
-> right: bagel pizza with ricotta and raclette (swiss) cheese.
The lovely jars from Weck* can be found at Amazon* and are perfect to stock this kind of cheese.


* Les petits astérisques mentionnent des liens affiliés | Stared links are affiliated websites *