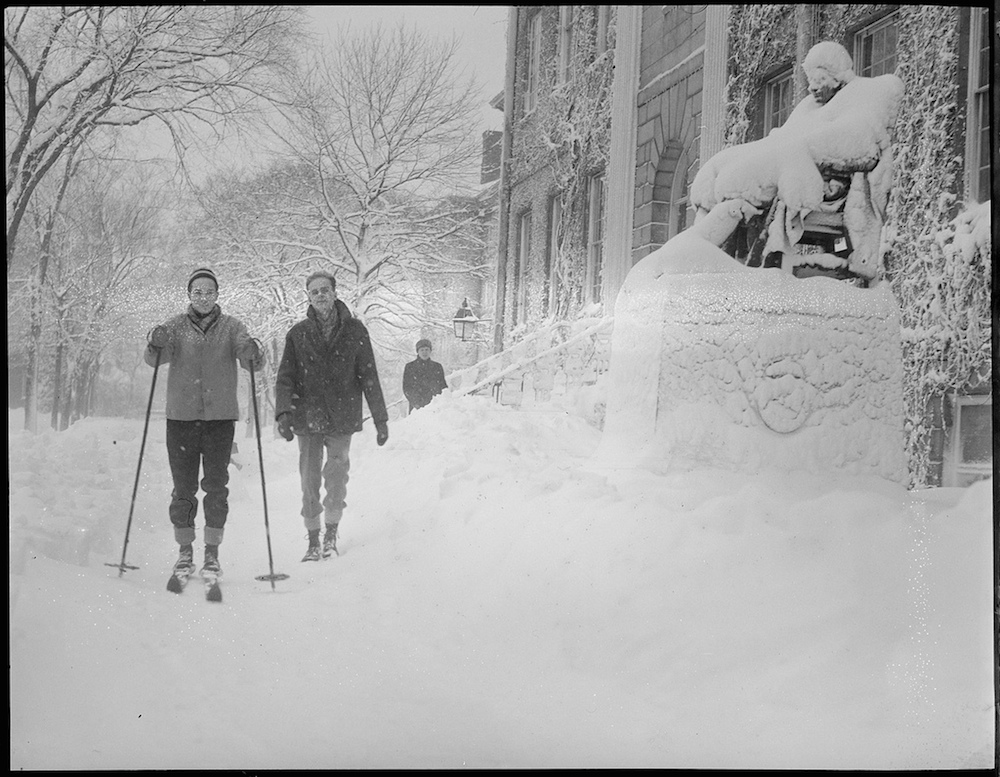 Alors oui, je sais, je vous bassine peut-être beaucoup avec la neige (surtout si vous me suivez également sur instagram) mais je n'y peux rien: c'est mon actualité depuis une bonne semaine. On ne parle que de ça, on ne voit que ça, il n'y a que ça devant moi lorsque je sors me promener ! Du blanc, du blanc et encore du blanc.
Jeudi, j'avais prévu d'aller à Harvard pour immortaliser ce "blizzard historique" mais impossible de mettre la main sur mon réflex (introuvable depuis le déménagement de décembre) donc je me suis dit qu'à la place je pouvais fouiller dans les archives historiques de Boston et trouver des pépites que vous n'aurez pas vues sur tous les médias ces derniers jours.
J'ai donc atterri sur le compte Flickr de la Boston Public Library et me suis rincée l'oeil devant tant de clichés empreints d'une beauté surannée et si nostalgique.
Toutes les photographies ont été prises entre 1920 et 1960 par Leslie Jones, photographe qui travaillait pour le Boston Herald.
Alors, prêt(e)s pour ce voyage dans le temps ?

Except if you have been living in a basement, you certainly know that Boston is covered by snow. We had two huge snowstorms in less than a week (Juno + Linus). So all is white. Everywhere. All you can see is snow !
Thursday afternoon I had planned to go to Harvard for shooting some scene photographs BUT, as we moved in December, I haven't been able to find my Canon since then. So, I thought that instead of showing you the same photographs that we can see everywhere on the web and in the news, maybe I could find some vintage photos from past blizzards, here in Boston.
After doing some research, I came across the Flickr account of Boston Public Library and found some treasures. In fact, gorgeous treasure from past !
All the photographs have been taken between 1920 and 1960 by Leslie Jones, a Bostonian photographer who used to work for The Boston Herald.
So, are you ready for this time travel ?

Looks d'époque | Vintage outfits
This slideshow requires JavaScript.
Voitures ensevelies || Covered cars
This slideshow requires JavaScript.
Chevaux et carrioles || Horses and carts
This slideshow requires JavaScript.
Enfants || Kids
This slideshow requires JavaScript.
Scènes de vies enneigées || Boston Winter scene
This slideshow requires JavaScript.