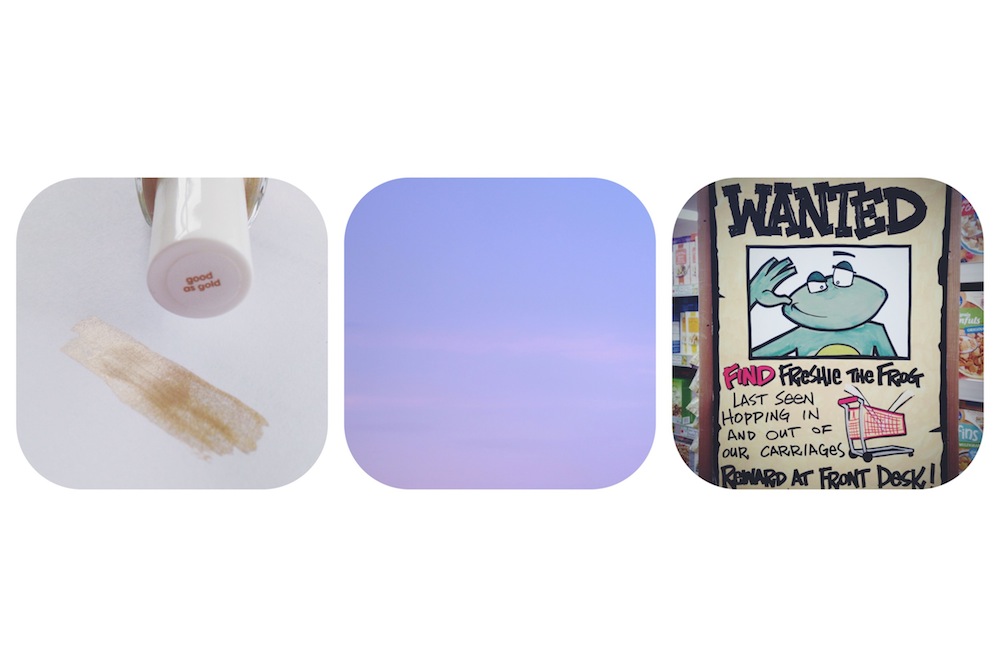 Dimanche, vous aviez pour mission de vous amuser, j'espère que ça a été le cas sinon attention, je vais tirer des oreilles ! Je crois bien que je vais en faire une rubrique ici. Une sorte de post-it.
Et puis pour ceux et celles étant sur instagram, je meurs d'envie d'en consacrer un hashtag et partager nos photos ici (avec votre accord bien entendu). Pourquoi pas #hejfunnyme ? Ça semble très égocentrique, I know, sauf qu'après m'être creusé la tête pour trouver qquechose de court + fun + vierge sur instagram, bonjour ! Dites-moi si ça vous tente.
Donc, nous avons passé une superbe journée:
1/ J'ai testé plein de vernis improbables à CVS, j'ai fini par en acheter un 😉  2/ Le ciel était magnifique au coucher du soleil 3/ Nous avons essayé de trouver la grenouille de Trader Joe's (en vain) mais ça nous a fait tellement rire que j'en garde un merveilleux souvenir.
---
Sunday, I asked you to have fun. I hope you did. I want to blog about this, like a post-it. So, I tried to create a hashtag for instagram. What do you think about #hejfunnyme ? Therefore you could share your fun with me !
We had so much fun too:
1/ I tested so many nail polishes at CVS and finished by buying one from Essie. 2/ The sky was so beautiful 3/ We find out about the wanted frog at Trader Joe's. So we started to look around with so much fun and spying everyone. This is the funniest thing ever !