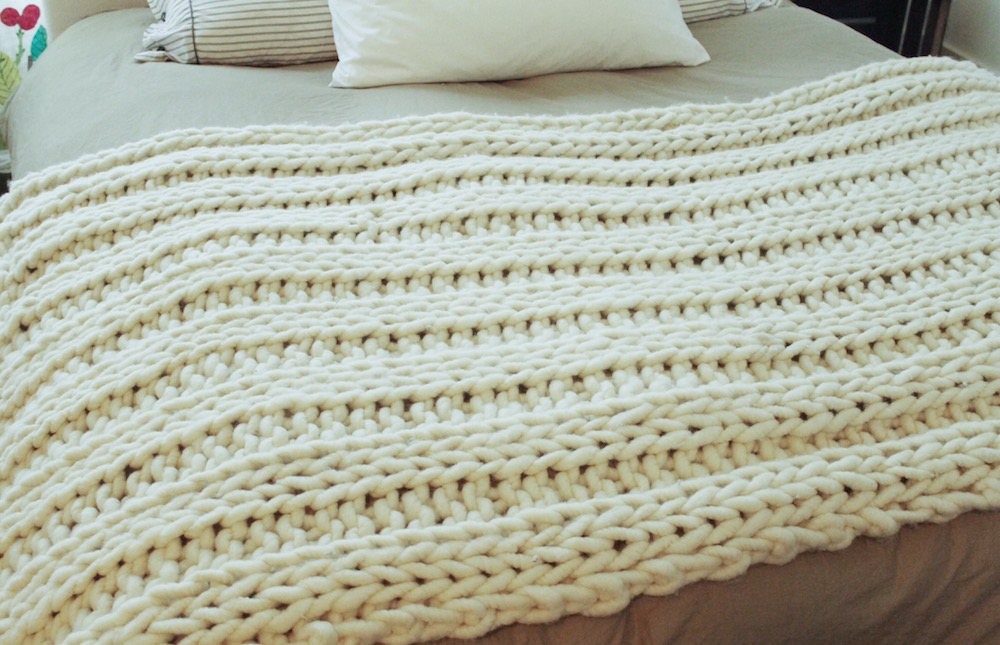 Il y a quelques semaines de cela, j'ai montré sur Instagram l'avancée d'un méga plaid que je tricotais avec joie et fol amour. Comme promis, voici enfin l'article qui lui est dédié !
J'en rêvais depuis longtemps : un plaid bien moelleux à déposer sur le lit ou sur le canapé. C'est Loopy Mango (marque New-Yorkaise) qui propose ces pelotes géantes de laine mèche mérinos dans des kits de tricots dédiés. J'en rêvais malgré le prix bien trop cher. Jusqu'au jour où je vois que les mêmes kits sont en "clearance" sur le site d'Anthropologie. Méga aubaine qui ne se présente pas deux fois: ni une ni deux, je m'en suis offert deux pour le prix d'un demi !
Cela m'a pris environ une semaine et demie pour le tricoter: les aiguilles (en 25mm) sont un peu pénibles à garder en main et puis la laine devient vite lourde après quelques dizaines de centimètres tricotés.
MAIS, voilà, il est là, il est sublime, doux et confortablement lourd. Il tient super chaud. Les chats ont interdiction de monter dessus et moi j'ai déjà hâte que le prochain hiver arrive pour m'enrouler à nouveau dedans !

Few weeks ago, I shared on Instagram some pictures of a huge throw I was knitting. It was a big project and I promised to share more details on the blog. Here I am today !
I dreamt about this throw for many months. The yarn is from Loopy Mango. They sell huge merino skeins and also knitting kits. Also, the prices are huge too. So it remained a dream for so many time. Until one day, the Nantucket Kit were on clearance on the website of Anthropologie ! I ended buying two for the price of half one ! My dream came true the day they finally arrived at my place.
It took me almost two weeks to knit it because the needles are not easy to knit with and because of the weight of the yarn.
But, here it is ! It's absolutely gorgeous, so comfy and so soft. As it's super heavy, it's seems like you're protected by some huge amount of softness ! The cats are strictly forbidden to approach it and as far as I am concerned, I am already wishing winter to come faster to be able to roll in it like a wrap ! Well, I guess I can say I'm in love with it.