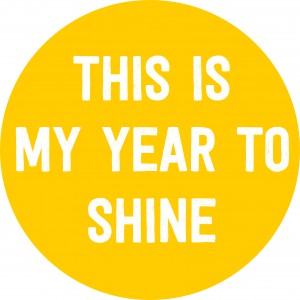 En 2012, j'ai pris soin de ma santé. En 2013, j'ai pris soin de ma stabilité émotionnelle. En 2014, j'ai pris soin de mon enfant intérieur.
Pour 2015, j'ai décidé de prendre soin de ma personne dans sa globalité. Apprendre à m'aimer et à me plaire avec bienveillance, respect & cela inconditionnellement.
Je veux avoir la joie de vivre collée sur mon visage, sourire plus souvent, continuer à vivre jour après jour un peu plus dans le moment présent. Stresser moins. Sortir plus. Rencontrer des gens et répandre autour de moi bonne humeur, joie & amour comme des confettis.
C'est un sacré défi mais je veux y croire. Ce ne sont pas des résolutions balbutiées vite-fait entre deux coupes de champagne, c'est un cheminement personnel dont je suis fière. Je me souhaite simplement d'être une meilleure personne un jour après l'autre. Une belle personne, à l'intérieur comme à l'extérieur.
Chers amis, je vous souhaite le plus beau, le plus précieux de vos rêves; mais surtout, je vous souhaite pour 2015 et les années à venir, d'être vous-mêmes. En paix, à l'intérieur et à l'extérieur. "You worth it because you are a wonderful human being." Et cette nouvelle année peut également être l'année où vous brillerez !

 The past three years, I've been taking care of myself a lot. In 2012, it was my health. In 2013, my emotional stability. In 2014, my inner child was my principal goal to fulfill.
Today, in 2015, I still want to take care of myself, but the whole being. I want to learn to love me and like me with respect, kindness et thus inconditionaly.
I want the "Joie de vivre" to be glued on my face, smile more, and enjoy life day after day as a true and incredible state of mind. I want to stress less than I use to. Go out more and meet new people. I want to sparkle good vibes, joy and love around me like confettis.
I do know that it is a crazy challenge for me. But, these are not just silly resolutions. It's a true personnal path and I have to admit that I'm proud of what I've accomplish so far. I wish me to be a better person, day after day, on good days and crappy days too, inside and outside.
Dear friends, I wish you the best. I wish you to realize your most precious dream; but what I do want for you in 2015 and for the new years to come, is to find yourself and to be true to you. In peace, inside and outside. You worth it because you are a wonderful human being and this year can be your year to shine too !