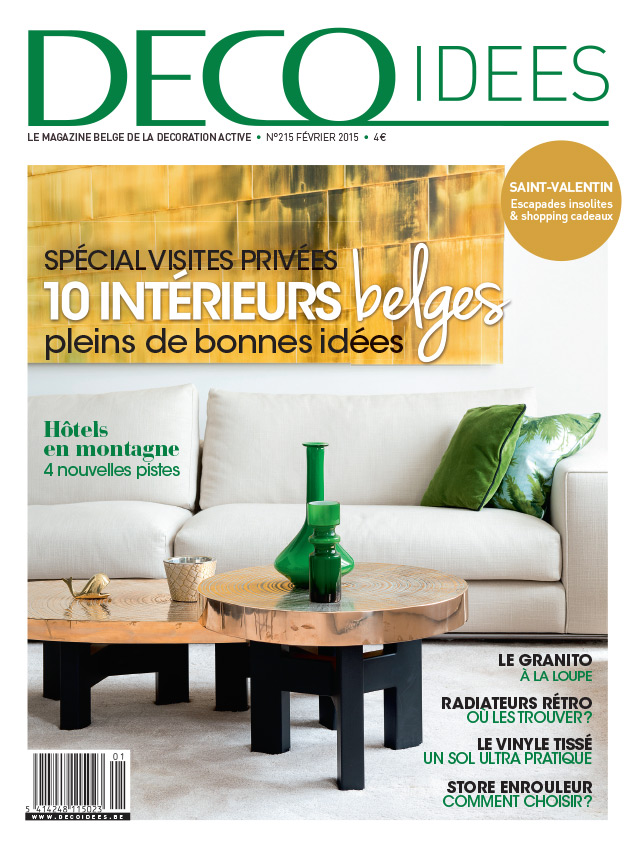 Pour Noël, Cyp m'a offert un abonnement à mon magazine de décoration préféré et vénéré: le magazine Belge Déco Idées. (Magazine souvent confondu avec le 100 idées Déco du groupe Marie Claire qui n'a rieeeen à voir).
Qu'elle n'a été ma joie en découvrant cette sacrée surprise sachant que j'avais déjà beaucoup de mal à le trouver en France, alors savoir que je vais le recevoir ici à Boston et cela de façon régulière, me rend guillerette comme tout.
J'adore ce magazine pour la simple et bonne raison qu'il est différent des autres et a clairement sa marque de fabrique. Les reportages déco ainsi que les visites privées (en très grande majorité chez des Belges) sont super intéressants. Bref, depuis 6 ans que j'ai découvert son existence dans un Relay, je n'ai pas été déçue une seule fois, c'est pour dire à quel point je l'aime, moi, la fille hyper pointilleuse !
Pour le coup, j'ai envie de partager ici mes coups de coeur issus de chaque exemplaire de manière mensuelle. J'espère que ça te plaira.
Disclaimer: pour des raisons évidentes de droits d'auteur, je n'ai clairement pas dans l'idée de montrer TOUT le numéro, juste quelques photos de ce qui m'a le plus plu.

For Christmas, Cyp offered me a subscription of my favorite decoration magazine: Belgian magazine Déco Idées.
It has been my joy discovering this nice surprise knowing that I had a lot of trouble finding it in France, and also knowing the fact that I will be able to receive it here in Boston and regularly makes me super happy !
I love this magazine for the simple reason that it is different and clearly has its trademark. The decoration coverage and private visits (overwhelmingly among Belgians homes) are super interesting.
In short, since I have discovered its existence, (6 years ago) I have not been disappointed once, I Celine the hyper fussy girl ! So that's how much I love it.
And then, I guessed I could share with you my favorites picks from each copy on a monthly basis. I hope you like it.
Disclaimer: For obvious reasons of copyright, I clearly do not have the idea to paste the whole issue, but just some pictures of what I liked the most.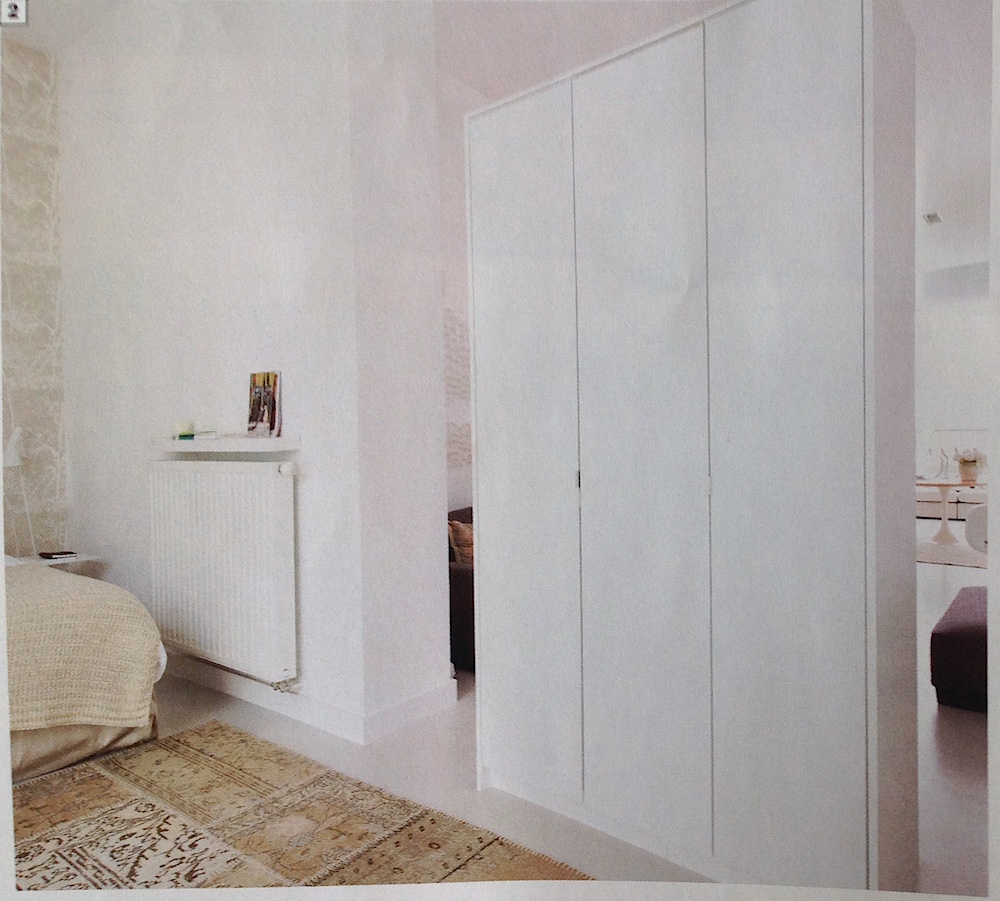 Pour commencer, voici une idée particulièrement intéressante (que l'on retrouve souvent dans les petits appart type studio) : diviser l'espace grâce à un meuble étagère à travers lequel la lumière peut passer aisément. Sauf qu'ici, c'est bien une armoire qui sépare la chambre du salon (chose étonnante à mes yeux).
Pour ma part, c'est quelque chose que je verrais tout à fait envisageable pour séparer une chambre d'une salle de bain. On peut aller encore plus loin en imaginant une double armoire que l'on peut ouvrir des deux côtés. Côté chambre avec les fringues, côté salle de bain avec tout ce que l'on souhaite avoir dans sa salle de bain. A creuser pour ceux qui ont la chance d'avoir une suite chez eux !
Photo: Mireille Roobaert
[Excusez la piètre qualité de la photo, impossible d'en avoir une plus potable :/ ]

First one, here's a very interesting idea (which is often found in small apartments and studios) dividing the space with furniture shelf through which light can pass easily. Except here, it is a cabinet that separates the bedroom from the living room (surprisingly to me).
For me, this is something that I would see quite possible to separate the master bedroom from the master bathroom. We can go even further by imagining a double wardrobe cabinet that can be opened on both sides. The room's side with clothes, the bathroom's side with everything needed in the bathroom. A hint for those lucky people who have a master suite !
Photo: Mireille Roobaert
[Sorry for the bad quality of the picture, I couldn't succeed having a better one ]


Confession du jour: je suis fan des immenses bibliothèques faîtes sur mesure où l'on peut ranger toute une multitude de livres, de bibelots, de photos mais surtout plein de livres. Ça doit être mon côté La Belle et la Bête version Disney. D'ailleurs, c'est carrément ce que nous avions prévu de faire dans notre précédent appartement mais abandonné au dernier moment après avoir appris que l'on déménageait. Bref, ici deux versions qui me plaisent beaucoup. Alors, pro-bibliothèque de malade ou pas ?
Photo de droite: Luc Roymans
Photo de gauche: Bieke Claessens

Today's confession: I LOVE built-in shelves in which you can put lots of books, decorations, pictures and more books. I guess it's must be my Disney's Beauty and the Beast side.
In fact, it's what we had planned to do in our previous apartment but dropped at the last minute after learning that we would move abroad.
Anyway, these are two versions that I like very much. So, are you a built-in library lover like me or not ?
Photo de droite: Luc Roymans
Photo de gauche: Bieke Claessens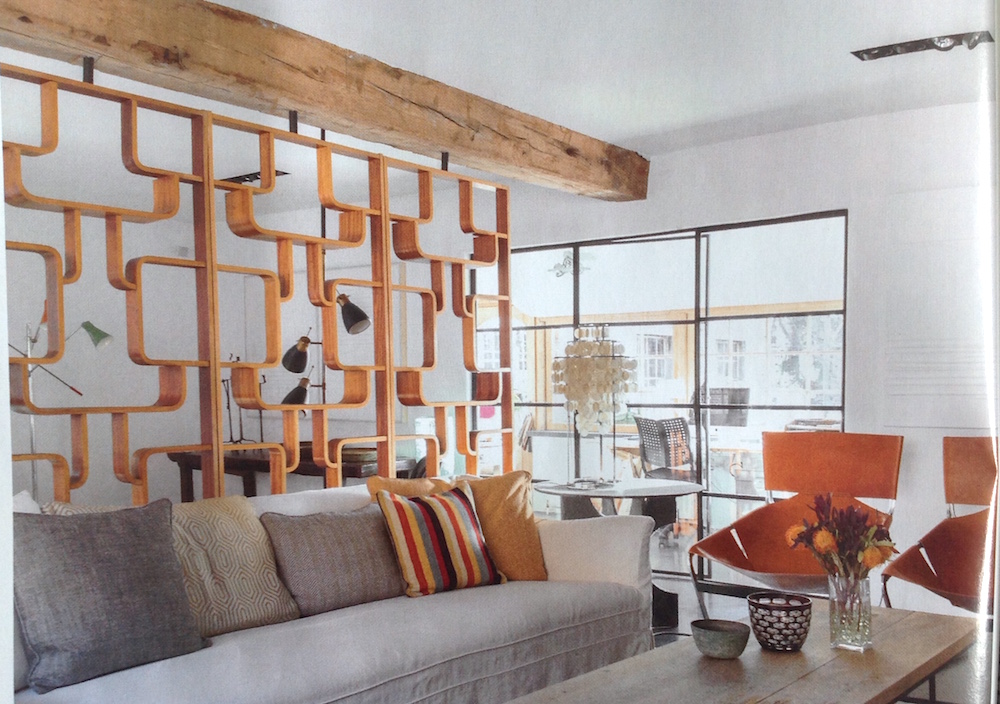 Je suis tombée amoureuse de ce séparateur de pièces en bois, totalement mid-century, tellement rétro.
Ces claustras en bois proviennent donc de Slovénie: Natasha et Henri-Charles sont très très chanceux !
Photo: Guy Obijn

I'm in love with these wall blinds in wood. Definitively so mid-century, so retro. 
They are custom made from Slovenia. The owners are such a lucky couple, just saying !
Photo: Guy Obijn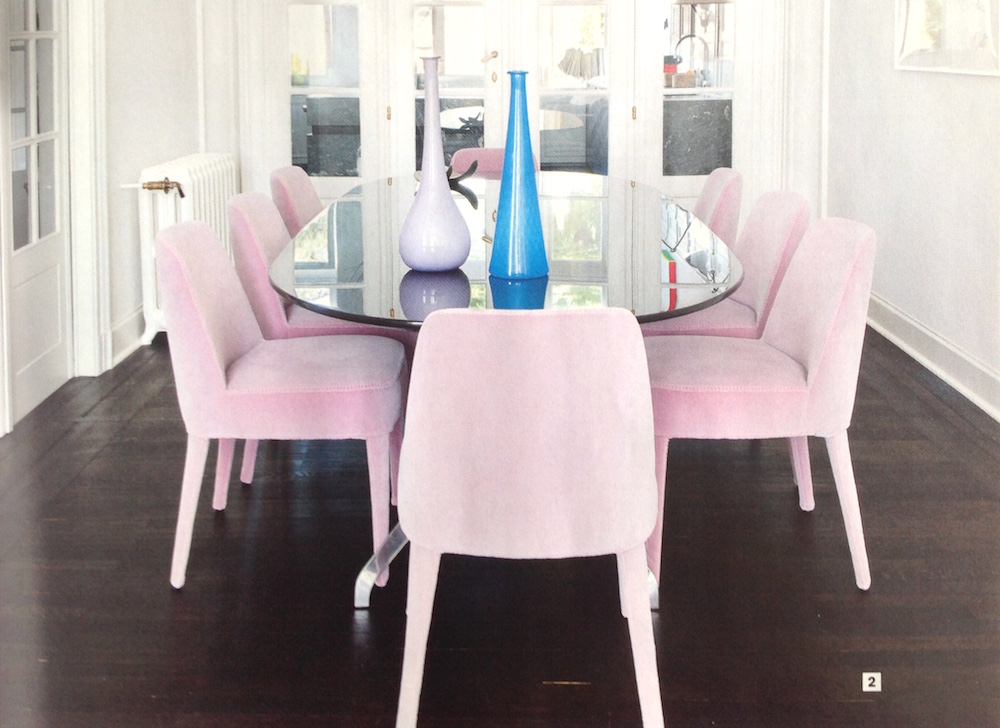 J'ai gardé le meilleur (à mes yeux) pour la fin: j'ai nommé les chaises en velours rose pâle (Febo Maxalto). Je trouve l'idée canon d'associer du rose pour une salle à manger, ça rend le tout tellement plus ludique et surtout hyper joyeux.
En même temps, en ce moment, c'est clairement ma couleur de prédilection donc mon avis est archi biaisé !
Photo: Mireille Roobaert

The best for the end: these velvet pink pale chairs (Febo Maxalto) are to dying for, don't you think ? Especially for a living room ! I love the mix and the gorgeous idea of putting pink in such a formal room. It makes it so joyful and pleasant. At the same time, right now, this is clearly my favorite color so my opinion is biased ! 
Photo: Mireille Roobaert



Alors, tu le trouves comment ce premier opus ?

So, tell me everything: did you liked this first kind of post ?