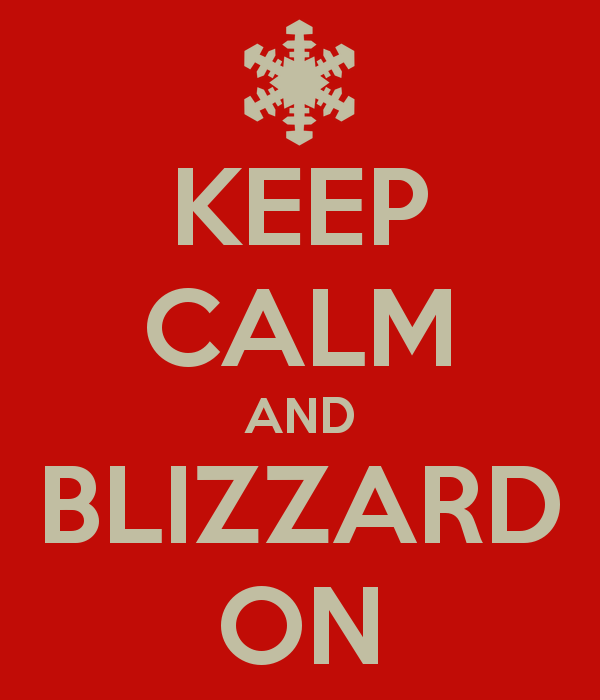 Lundi, bien qu'au courant d'une potentielle tempête de neige, je suis passée au cran d'alerte supérieur après avoir reçu plusieurs emails d'urgence. Moi qui pensais que c'était banal, j'ai commencé à flipper après avoir lu les mots "emergency kit" "careful" "power outage" "coupure d'eau" etc etc. Euh, mais c'est juste une tempête de neige, n'est-ce pas ? Bref, j'ai compris qu'on n'était clairement pas préparés.
Donc cher ami, voici le kit de survie pour ton futur premier blizzard en Amérique du Nord:
Tout va bien se passer: après tout, ce n'est que de la neige et du vent !
Mets ton smartphone, tablette et ordi à charger   -> RIGHT NOW.
Il est temps de commencer à chercher les bougies et de quoi les allumer. Si t'en as pas, note-les sur ta liste de courses pré-blizzard. Si on t'a empêché d'en acheter lors de ton dernier voyage à IKEA, c'est le moment de faire une scène couplée à une bonne fausse crise d'angoisse. (succès assuré pour la prochaine fois !)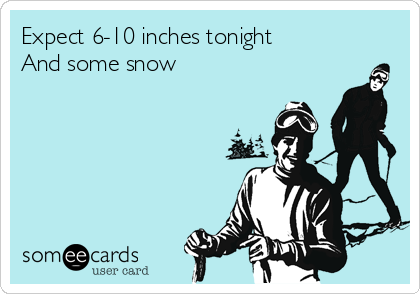 Les provisions : commence à te préparer psychologiquement au fait qu'il va falloir faire des courses d'appoint, dans la cohue générale et oublier tous tes repères de personne civilisée. C'est chacun pour soi maintenant. Comme dans Koh-Lanta, mais sous la neige et sans feu.
La liste de courses: oublie les pâtes. Pas d'eau, pas de feu, pas de pâtes. CQFD. Idem pour le riz. Finalement, à KL, ils sont bien lotis, sales veinards ingrats !
Voici la vraie liste de courses: beaucoup d'eau – du chocolat – des fruits – de l'alcool + tout ce que tu seras enclin à manger sans pouvoir cuisiner en cas de coupure de courant. Des croquettes pour tes poilus. Et de quoi préparer des brownies en double quantité.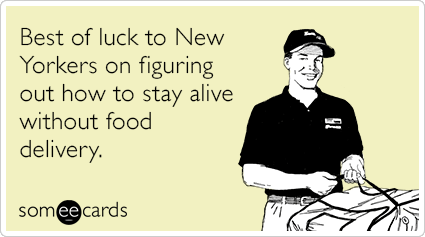 Let's Celebrate ! Ce qu'il y a de bien chez les américains, c'est que toute occasion est bonne à célébrer. Ce qui est le cas de ton premier Blizzard u.s. donc tu peux rajouter à ta liste de courses: cacahuètes / guacamole / tortillas / saumon / pizza. Et des pots de glace. (oh yeah)
NOTE: il faut pouvoir tenir 36 heures. Ou plus dans le pire des cas. Ne pas oublier les bougies + les allumettes. (rajouter une couche ikea si nécessaire, cf point 3).
Les courses sont faîtes, maintenant il est temps de préparer les brownies et mettre de l'eau de côté pour tes besoins personnels. Tu peux aussi rapatrier au même endroit toutes tes couettes, plaids et couvertures (juste au cas-où).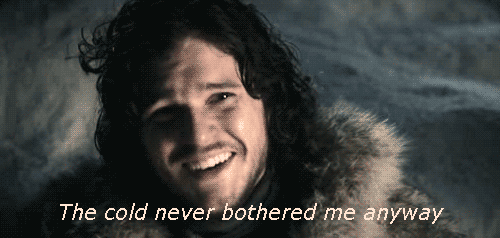 C'est bon, t'es prêt. (tu peux encore en rajouter une couche au sujet des bougies Ikea qui sont quand même vachement moins chères que celles de la supérette du coin et surtout vachement plus belles. Tu me remercieras la prochaine fois… )
Netflix – Netflix – Netflix – Netflix – jusqu'à ce que le courant disparaisse par enchantement. Si tu n'as jamais réussi à faire comprendre à ta moitié l'intérêt d'avoir un onduleur à la maison, c'est maintenant ou jamais. (mais bien sûr que je suis pour la paix des ménages !)
Merde, j'ai oublié le pq !
Spoiler : si t'as un chien, faudra le sortir. Si tu vis dans une maison, faudra pelleter toutes les quatre heures aussi … Si t'as un chien ET une maison, je suis de tout coeur avec toi.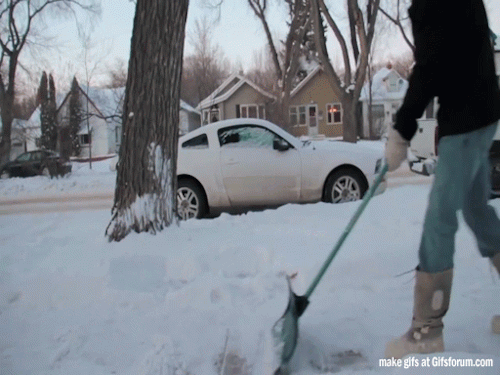 Monday afternoon, my life was running super smoothly until I started reading emails that Apocaplypse aka #Blizzard2015 aka #Juno was coming. I though it was just a simple snowstorm but after all, who was I to judge of my first American blizzard, right ? Well, I realized we were NOT prepared for the worst to come.
So, dear friend, this is your emergency kit for your future first North American Blizzard. Enjoy !
Keep calm and blizzard on: it's just a lot of snow + a lot of wind !
What you should do like RIGHT NOW is plug all your devices: smartphone, tablets & computers.
Now, let's talk candles. Do you have candles + matches ? If you don't have any, note it on your pre-blizzard grocery list. Well, it's also the perfect occasion to reconsider that moment when last time somebody forbid you to buy anymore candles at Ikea. So breath in and start crying out loud (for false) that it was so unfair and that's why we always need to stock candles. Specially the Ikea ones. (big success, I promise !)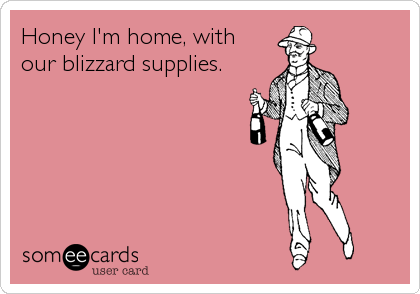 Supplies: you should prepare yourself that it's gonna be a hard time when running special errands for your first blizzard. It's Survivor time. Every man for himself. Like in Survivor. But with snwo and without fire or gas.
Grocery list : forget about pasta because no water + no fire = no pasta. Same thing with rice. See, the folks at Survivor are well off after all, such ungrateful drama queens !
This is the real grocery list: lots of water – chocolate – fruits – booze + everything you might end eating without cooking or reheat. Do not forget the dry food for your pet(s) + also some food for your kids too (eventually). Oh, and enough supplies for some brownies too !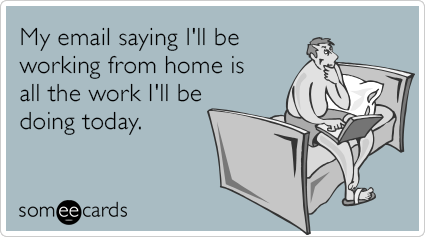 Let's Celebrate ! As a human being in America, you have to celebrate any occasion life brings to you and your first u.s. blizzard is kind of a huge occasion. So you can add any party food to your grocery list: peanuts / guacamole / tortillas / salmon / pizza. And ice cream too. (oh yeah)
NOTE: you must be able to hold 36 hours. Or more in worst cases. Do not forget about the candles and matches. (you can add a layer of the ikeagate if needed, see part 3).
So, grocery supplies are OK, now, it's time to cook your brownies et save some clean water for personal utilities. You can also repatriate at the same place every duvet, blanket, plaid present at home.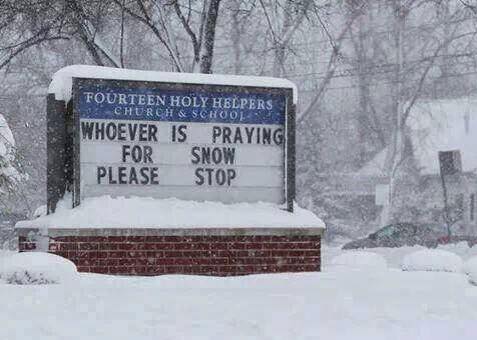 It's seems you're ready, dude ! (Well, you still can add another Ikeagate layer, just because it's funny and cause the new candles are way more expensive and way less beautiful than the Ikea ones. You'll thank me next time..)
Netflix – Netflix – Netflix – Netflix – until power outage do you part. If you've never been able to convince your other half the interest of having an UPS (Uninterrupted Power Supply) at home, it's now or never. (and honey, of course i am against stirring things up between couples !)
Oh, sh*t, I forgot the toilet paper !
Spoiler: If you have a dog, you'll have to walk it. If you live in a townhouse, you'll have to shovel the sidewalks every few hours … If you have both, oh kid, I am wholeheartedly with you.