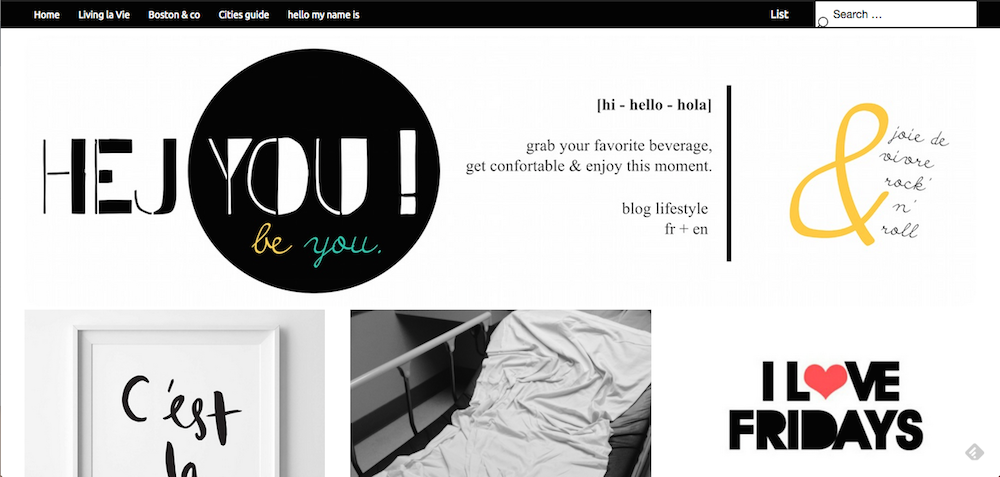 Hello dears !
Ça fait des mois et des mois que je suppliais Cyp que l'on fasse quelque chose car le look du blog me sortait par les yeux. Je le trouvais tellement triste et tout nu. Alors voilà, la magie du CSS a encore frappé et je suis super contente parce que j'ai enfin trouvé le thème dont je rêvais: celui qui offre la possibilité de scroller infiniment (comme sur tumblr) (et oui, je sais que Google n'aime pas trop pour le référencement mais tant pis) cependant si vous cliquez sur "list" juste à côté du search, vous aurez le blog sous forme de liste.
Alors, t'as essayé ? Cool, n'est-ce pas
Sinon, il y a encore quelques broutilles à régler (comme mon envie perfectionniste de revoir la mise en page de tous les articles précédents) et l'ajout d'autres petits éléments pour rendre ce blog socialement actif avec tous les outils nécessaires. A part ça, j'espère que ça vous plaît tout autant qu'à moi.
P.S.: maintenant, je peux même twitter pour toi et dire à quel point tu trouves que le nouveau look de hejyou.be est sublime  CRA.ZY right ?
Allez, see you soon !

Hello dears !
I can't tell how many months I begged Cyp to help me with a new theme for the blog. The last one (even if I liked it) seemed too sad and naked so I really needed something more happier. And voilà, here it is ! CSS magic and a lot of patience after.
I am beyond the moon with the infinite scroller option (like a tumblr) and If you prefer it, you can also read the blog as a post list. You just need to clic on the list button over there. Isn't that cool ? Do you like it too ? And what about the two columns plugin ? I am in love with that too. It's gonna be so more easier for you and me.
We still have things to finish, just some little details but nothing as big as a new theme. Social icons + other stuff ..
By the way, you can also tweet directly from here, I mean, I can prepare tweets for you to share like how happy you are about this makeover: .@hejyou_blogbot makeover is gorgeous. Can't wait to read the new coming posts ! RAD, right ?
 Allez, see you soon !